Education Library Town Hall
We invite all EGSS members to attend the Education Library Town Hall happening this Friday, May 10th from 10am to 12pm (see poster below).
The Dean of Libraries, Dr. Colleen Cook, has confirmed her attendance. This is a good opportunity for people to raise concerns and ask questions.
We hope to see you there!

Help prevent the closure of our Education Library!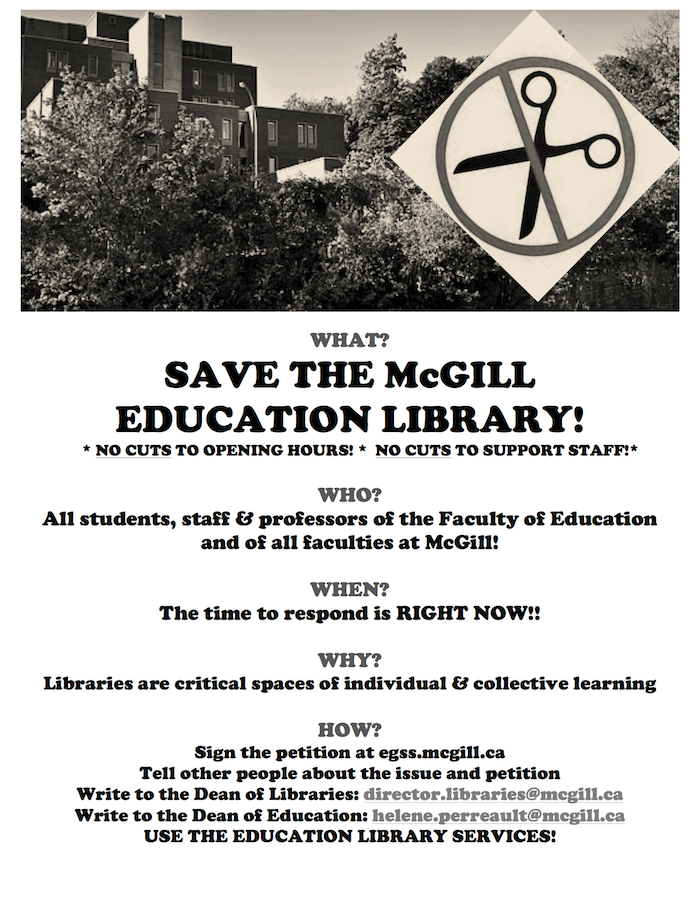 < Join our Facebook page to show your support >
The EGSS council unanimously approved an emergency motion in relation to the closure of the Education Library.
RESOLVED THAT the EGSS Council initiate and coordinate a campaign immediately to prevent the closure of the Education Library;
FURTHER RESOLVED THAT the EGSS Council uses up to $200 from the Solidarity Fund to finance this campaign if need be [5].
FURTHER RESOLVED THAT the EGSS representatives in the Faculty Council put forward this concern in the next Faculty Council meeting.
We now further encourage our membership to support us in keeping this essential service.
---
EGSS Open Mic & Art Show – and now... Save the Education Library!
Join us April 26th at 6PM for another Open Mic Event!
*Do you enjoy music and arts?
*Do you create art and would like to display it?
*Do you do poetry/music or any performance-based arts and would like to share them?
If so, you should definitely join us. Food and wine will be served!
To confirm your attendance and/or to reserve a spot for your musical/performing talents and/or to reserve a space to display your art, please fill in this form.
Come and share your education library experiences with us! Tell everybody at the event why it is so important to keep the library open!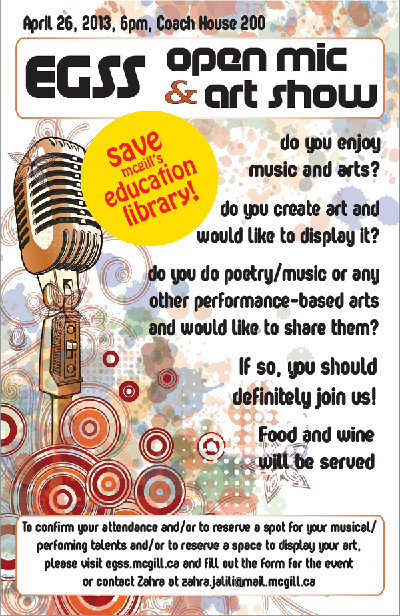 ---
Thank you to all who presented and participated in this year's conference!
Our thanks as well to our photographer who has taken some beautiful pictures!